Facials
60-Min Facial – $80
Treat your skin to deep, double cleansing as warm steam and hot towels promote relaxation, product absorption, and circulation. Your esthetician will then analyze your skin with a magnifying lamp to ensure you receive a treatment that is accurately customized for your skin's needs. Your treatment will include exfoliation, light hand/arm massage, extractions as needed, and a face mask. To conclude your treatment, your esthetician will apply the appropriate serums, eye cream, moisturizer, and SPF for your skin type.
90-Min Facial – $100
Enjoy all the benefits and steps of a 60-minute facial with additional time to focus on whatever it is you need or want most; whether it's a second face mask, a deeper exfoliating treatment, extra massage time, or more extractions, our esthetician has you covered.
Back Facial – $60
Back facials are beneficial in providing a deep cleanse and full skincare treatment to an area that is difficult to reach, while targeting a variety of skincare needs, such as acne or dry skin. This treatment incorporates many of the traditional techniques used while performing treatments for the face. It involves deep cleansing, exfoliation, extractions as needed, a purifying or hydrating mask, and moisturizer.
Facial Add-Ons
Polypeptide Collagel+ Mask Add-On
Face ……………………….…………….………… $15
Eye …………………………………………….…… $10
Add a mask to your facial, dermaplane, or microdermabrasion treatment; this will add 10-20 minutes to your service. These masks utilize Hydrogel technology that is infused with collagen-supporting peptides and hydrating nutrients to reduce the appearance of fine lines while brightening age spots.
Dermaplane Add-On – $50
Add a dermaplaning service to either a 60 or 90-minute facial. This will add approximately 30-40 minutes to your facial service.
Microdermabrasion Add-On – $65
Add a microdermabrasion service to either a 60 or 90-minute facial. Depending on your skin type, this will add approximately 15-30 minutes to your facial service.
High Frequency Add-On – $30
Add a high frequency treatment to your facial, dermaplane, or microdermabrasion. This will add approximately 5 – 15 minutes to your appointment. 
HydraFacial™
Only HydraFacial™ uses patented technology to cleanse, exfoliate, extract, and hydrate. The spiral design of HydroPeel® Tips, used in conjunction with the HydraFacial™ proprietary vacuum technology and serums, creates a vortex effect to easily dislodge and remove impurities while simultaneously delivering hydrating skin solutions. HydraFacial™ super serums are made with nourishing ingredients that create an instantly gratifying glow in just 3 steps:
Cleanse + Peel
Uncover a new layer of skin with gentle exfoliation and relaxing resurfacing.
Extract + Hydrate
Remove debris from pores with painless suction. Nourish with intense moisturizers that quench skin.
Fuse + Protect
Saturate the skin's surface with antioxidants and peptides to maximize your glow.
Platinum Treatment  – $200
This 60-minute treatment is the ultimate HydraFacial™ experience. We begin the detoxification process with lymphatic drainage and follow with the Signature HydraFacial™ to deeply cleanse, extract, and hydrate the skin. We then address specific skin concerns with an additional booster serum and conclude with LED light therapy to further reduce acne and/or visible signs of aging.
Deluxe Treatment – $175
This 45-minute treatment includes all the steps in the Signature HydraFacial™ in addition to LED light therapy and a booster appropriate for your skin type.
Signature Treatment – $150
This 30-minute treatment includes deep cleansing with steam, extracting, and hydrating through our super serums filled with antioxidants, peptides, and hyaluronic acid.
Back Treatment – $150
Eye Perk Add-On – $25
Brightens, tones, and firms the outer eye
Improves skin hydration
Gently removes surface layer dead skin cells
Lip Perk Add-On – $25
Lightly plumps lips
Gently exfoliates to smooth lips
Hydrates lips
Eye + Lip Perk Combo – $40
Clinical Treatments
Dermaplane – $65
Dermaplaning is a skin treatment that uses an exfoliating blade to remove dead skin cells and "peach fuzz" hair from your face, resulting in a smoother and brighter complexion.
Microdermabrasion – $80
A diamond-tipped wand is used to gently abrade the outer layer of skin to treat light scarring and improve skin texture. The vacuum feature stimulates blood flow and effectively removes dead skin.
SkinPen® (Microneedling)
Full Face……………… $275
Face & Neck………… $375
Small Area ………….. $150
Microneedling causes controlled micro-injuries that stimulate collagen production while minimizing cellular damage. The result is an effective remodeling of scar tissue and improvement of texture and fine lines. Microneedling is most beneficial when performed as a series (3-6 treatments), with 4-8 weeks in between treatments. Most people notice brighter, healthier-looking skin after the initial treatment. The natural repair process of the skin continues to progress over the course of several weeks. Dermal collagen remodeling takes place over time, and it will continue to improve for up to 6 months after treatment.
For your comfort, topical numbing cream will be applied to the area(s) to be treated approximately 30 minutes prior to your treatment. The procedure itself is typically completed in about 30 minutes, but time may vary depending on the size of the total treatment area. After the procedure, the skin will be red and flushed in appearance, similar to a moderate sunburn. You may also experience skin tightness and mild sensitivity to touch on certain areas. This will diminish significantly within a few hours following the procedure. Most patients will experience some light to mild flaking and/or peeling for approximately 3-4 days following their treatment. Skin dryness is common for approximately one week after treatment. Total healing time depends on the severity of the damaged skin and the depth of the repair process required.
Melanage Minipeel – $325
1% retinoid under 10% azelaic acid + 10% lactic acid + 10% phytic acid
Do you have uneven skin tone, deep pigment issues, or melasma? The Melanage Minipeel is a superficial peel designed to improve the texture and appearance of hyperpigmented skin and involves a medicated peel solution and an at-home regimen. There is no pain and little-to-no irritation during the application of the mask, and typically, the irritation level on the following days is more like a sunburn.
The Minipeel is applied during an office visit, where it is compounded by the nurse to ensure its potency and reliability. Patients leave the office with the masque on their face; the peel is removed by the patient after a designated length of time. Patients are responsible for adhering to an easy-to-follow at-home regimen involving the application of several Melanage products (included with peel purchase) following peel removal.
Actinage Micropeel …………………..… $350 
This painless, superficial peel combines 30% salicylic acid with azelaic acid and a retinoid to exfoliate and clarify acne-prone skin. In addition to this quick, in-office treatment, your purchase will include the following products for at-home use:
SpenceRX Clarifying Cream Cleanser

SpenceRX Clarifying Nighttime Gel

SpenceRX Oxygen Balm

SpenceRX Clarifying Weekly Pads

Colorescience Face Shield SPF 50
High Frequency Facial – $65
This treatment utilizes argon gas and a mild electrical current that passes through a glass electrode when applied to the surface of the skin. The gentle, oscillating power of high frequency has been shown to enhance circulation, eliminate acne-causing bacteria, and improve product absorption. Includes cleansing, extractions (as needed), and application of treatment serums and SPF.
Waxing & Tinting Services
Brow Wax – $20
Lip Wax – $12
Lip & Brow Wax Combo – $30
Chin Wax – $10
Nose Wax – $15
Full Face Wax – $40
Eyelash Tint – $20
A lash tint will darken your natural lashes for approximately 3-4 weeks and will gradually fade over that period of time. For best results, please arrive to your appointment without eye makeup.
Eyebrow Tint – $20
Your esthetician will listen to you as you describe your ideal brow shade and will then select the appropriate color from a variety of options. The brow tint is darkest during the first 24 hours before you cleanse the area and will gradually fade over a 3-4-week period. For best results, please arrive at your appointment without brow liner, gel, cream, or powder.
Brow & Lash Tint Combo – $30
The Perfect Brow Combo – $30
Brow Tint & Wax
The Eyes Have It Combo – $50
Lash Tint, Brow Tint, & Brow Wax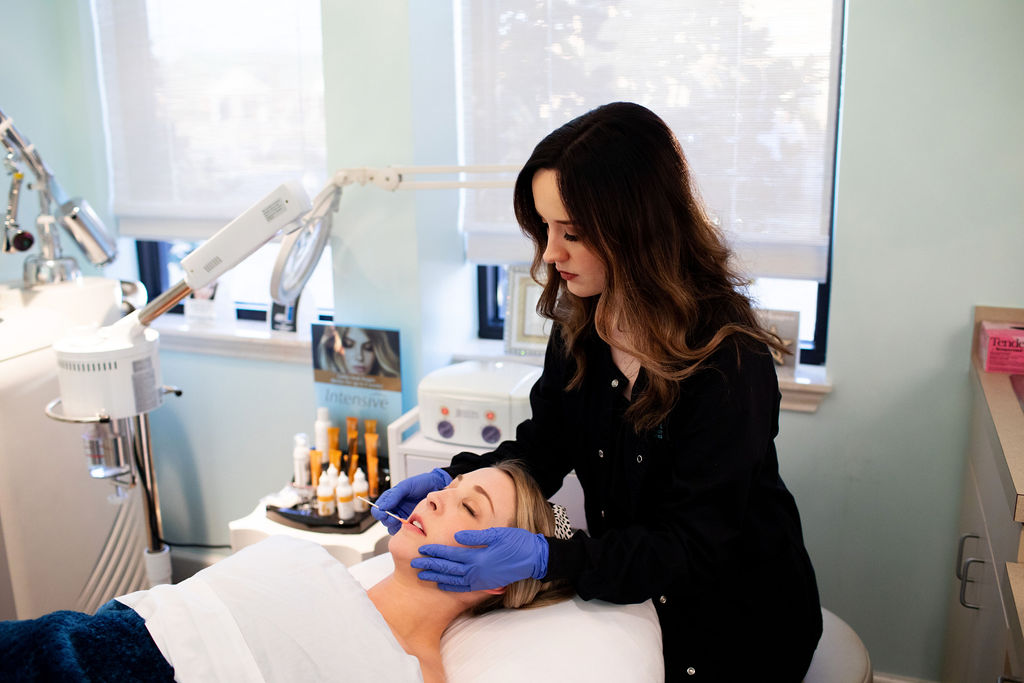 Note
If this is your first time receiving an aesthetic treatment at our clinic, please plan to arrive at least 15 minutes prior to your appointment to allow time to complete an aesthetic intake form. This form will help your esthetician select the ideal treatment options for your unique skincare needs. Patients who only receive waxing and/or tinting services do not need to fill out an aesthetic intake form. All patients will sign a consent form prior to each service they receive.
It is important to note that all aesthetic services include a list of contraindications (e.g., skin disorders, use of certain medications, autoimmune diseases) that may prevent you from receiving a particular treatment. In the event that you are unable to receive the treatment you scheduled due to a contraindication, your nurse/esthetician will work with you to determine if there is an alternative treatment you can receive that will safely treat your concerns.
We offer many procedures under local anesthesia that would historically be performed under general anesthesia, saving many of the risks, costs, side effects of general anesthesia (such as nausea), and recovery from general anesthesia.
We have created a center for privacy, rejuvenation, serenity and renewal for patients. Our center provides the highest level of care available any where in the field of plastic surgery and aesthetics while maintaining the upmost regard for patient safety, comfort, and privacy—all the while adding a touch of elegance and refinement to the experience.
Dr. Spencer provides both surgical and non-surgical or non-invasive cosmetic surgery and plastic surgery procedures. If you are searching for the leading plastic surgeon and aesthetic providers in the Northwest Arkansas region, easily accessed from Bella Vista, Bentonville, Rogers, Springdale, Fayetteville, Fort Smith, Harrison, Joplin, Southern Missouri, Eastern Oklahoma and everywhere in between, contact our patient coordinator at 479-751-7000, and make an appointment today!
READY TO LEARN MORE?
SCHEDULE A CONSULTATION TODAY!
Call 479-751-7000 or email us
at [email protected].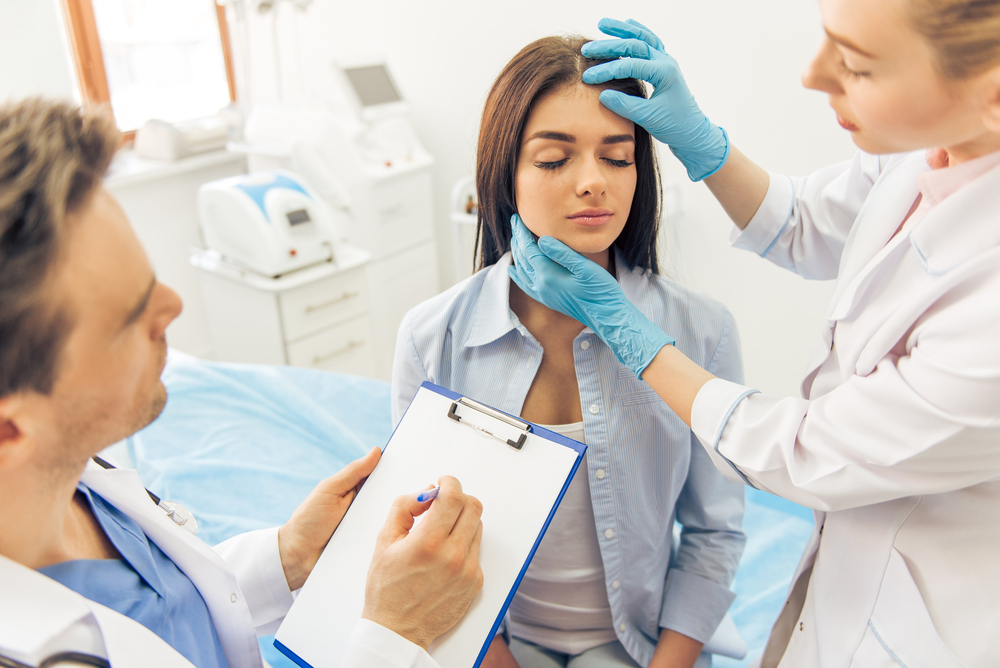 READY TO LEARN MORE?
SCHEDULE a CONSULTATION TODAY!
Call 479-751-7000 or email us
at [email protected].
Springdale
6823 Isaac's Orchard Rd
Springdale, AR 72762
479-751-7000
Call us for your appointment today!
Clinic Hours
Monday-Friday: 8am – 5pm
Closed Saturday & Sunday